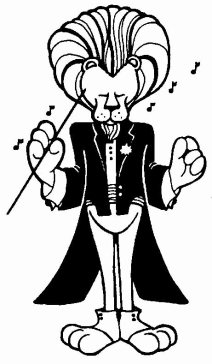 The University City Summer Band will perform at the Market in the Loop (6655 Delmar) on Tuesdays in June and July. Concerts will last about 80 minutes and include a short intermission. You may come and go as you please. Bring a lawn chair as seating is limited. Bring your children!
"CELEBRATING THE CIRCLE OF FIFTHS"
The repertoire of the UCity Summer Band for 2015 will feature music and composers with a connection to the number 5.
June 9 – Robert Souza, Trumpet SOLOIST- Performing solos by Hummel and Clarke
June 16 – THOMAS JOSTLEIN, FRENCH HORN/ALPHORN SOLOIST- Performing solos by von Weber and L. Mozart
June 23 – CELEBRATING JULY 4th
JUNE 30 – No Concert
July 8 – THE MUSIC OF GARY GACKSTATTER
July 15 – ERICA NEIDLINGER, DIRECTOR OF THE DEPAUL UNIVERSITY WIND SYMPHONY, GUEST CONDUCTOR
July 22 – THE MUSIC OF JOE PAPPAS
Additional GUEST CONDUCTORS AND COMPOSERS INCLUDE:
Jared Spears, Composer                                 Ron Stilwell, Composer/Conductor
Dale Skornia, Conductor                                Lori Burkhardt, Saxophone Soloist
Jocelyn Garner, Oboe Soloist                         Matt McKeever, Conductor
Grant Unnerstal, Conductor                           David Naylor, Conductor
Suzanne Bates, Vocal Soloist