Growing up, Jimmy Trinh ate banh mi almost every day. His parents, Vietnamese immigrants who also owned a restaurant, made sure that his lunchbox was always packed with pate-stuffed and pickled-vegetable-adorned baguettes before they sent him off to school each morning. Sometimes, they were topped with his mom's fragrant lemongrass chicken or leftover beef stew they'd had the night before — a meal that, by today's standards, would make him the envy of every little gourmand in the cafeteria.
Trinh laughs when he recalls unwrapping his sandwich and being perpetually disappointed that it wasn't bologna on white bread, remembering a desire for American-style processed meat that had little to do with his food's taste and more to do with wanting to fit in. However, that negative perception of his family's cuisine would change after Trinh graduated from high school and took what was supposed to be a three-week trip to Vietnam — one that turned into a yearlong sojourn into the food of the homeland he left when he was a baby. There, he gravitated to the banh mi and developed a passion for the sandwich that he hasn't since shook.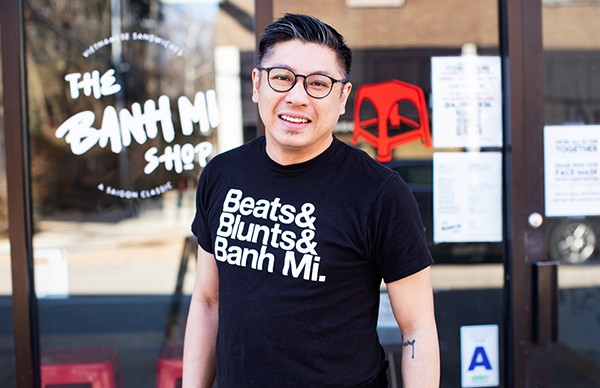 Chef-owner Jimmy Trinh's post-high school trip to Vietnam ignited his love of banh mi.