Huge shout out to the Riverfront Times for reviewing Blueberry Hill, Mission Taco Joint, Three Kings Public House, and Salt + Smoke fries and giving them the highest honor of some of the best fries in Saint Louis! Check out the full article here for other spots to hit up and see what they said!
"Buffalo Fries" – Blueberry Hill
Blueberry Hill is a bar, concert hall and restaurant all in one in the heart of the Delmar Loop. It has an extensive bar food menu, but a crowd favorite is the "Buffalo Fries," which sell for $3.50 or a larger size for $6.50. Shaped more like wedges than the traditional stick, they bring a little kick of Buffalo-style heat. Blueberry Hill is open from 11 a.m. to 1 a.m. Monday through Saturday and 11 a.m. to midnight on Sunday. Photo by Nancy Stiles.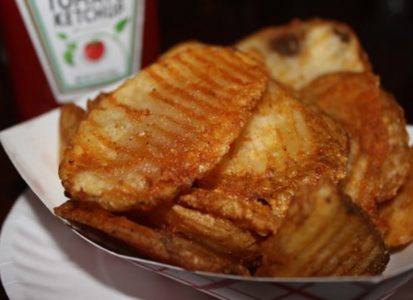 "Natural Cut Fries" – 3 Kings Public House
Three Kings is not your average bar. It offers food selections from all over the world and also has a great happy hour. On the menu you can find the mussels and fries appetizer, which includes fresh Prince Edward Island mussels simmered in a garlic-herb broth and served with natural-cut fries with curry caper mayo for $11.99. Does that sound a bit too adventurous? Of course, there is also a standard burger and fries combo as well. Photo by Nancy Stiles.
"Garlic and Herb-Seasoned Fries" – Salt + Smoke
Sure, Salt + Smoke is known for its barbecue, but its garlic and herb-seasoned fries are just as worthy of your attention. Whether paired with the restaurant's signature white cheddar cracker mac and brisket or ordered alone for $5, Salt + Smoke has some of the best french fries in town. Photo via Instagram / @kelly_ventrone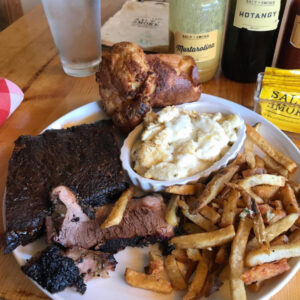 "Carne Asada Fries" – Mission Taco Joint
Mission Taco Joint rules late night, with $2 tacos accompanied by tequila shots. But its carne asada fries are a fan favorite any time of day. The chile-crusted potato fries come with wood-fire grilled flank steak, Chihuahua cheese, guacamole, crema and pico de gallo, all for $10.50. With locations in the Central West End, the Delmar Loop, Soulard and St. Charles (and, now, Kansas City), this Mexican favorite is a great place to gather with friends no matter what side of town you're on. Photo via Instagram / @foodandtraveljunkie.