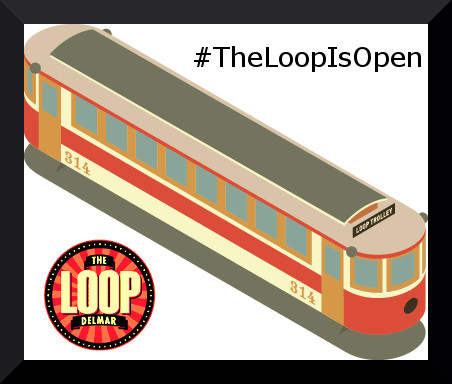 Sign-Up to win gift certificates from Loop Businesses Here!
Find out more information on #TheLoopIsOpen Here: The Loop Is Open 6.4
The Loop Is Open
1. What is The Loop Is Open?
o A partnership between the Loop Special Business District, Loop Trolley Transportation Development District and City of University City to keep the Loop as a destination and a viable business district during trolley construction and to celebrate construction progress.
2. What Is the Program
o The program will consist of giveaways, block parties, and marketing to continue to attract people to the Loop. Giveaways will include two $50 gift certificates each week from participating businesses. Block parties will take place to unveil track and/or celebrate a construction milestone.
3. How will the Gift Certificate Program work?
o Each Friday beginning June 12th, there will be two drawings, one at a participating business and one from an online raffle. Winners will be notified via email if they win. Delmar Loop visitors are also encouraged to use the hashtag: #TheLoopIsOpen on social media – additional giveaways will be offered though social media – t-shirts, discounts, etc.
4. How will the Block Parties be Planned?
o Save the Date! The first block party will take place on Saturday, June 27th – location, TBD. The free event will include live music and drinks. Block parties will be scheduled throughout the duration of construction as a means to encourage people to visit the Delmar Loop! Check https://visittheloop.com/ for up to date information. Events will be family-friendly and include trolley-related giveaways!
5. Which Delmar Loop businesses are Participating
o As of June 1st, over 15 businesses are participating: Blueberry Hill, Avalon Exchange, Rocket Fizz, Loop Living Furniture, The Melting Pot, Serendipity Gallery, Sunshine Daydream, Three Kings, COCA, Subterranean Books, Noodles and Company, Phoenix Rising, The Silver Lady, Peacock Loop Diner, Froyo, Componere Gallery, and many more!